Startup Success Story of Paytm | Vijay Shekhar Sharma
Imagine a scenario where you have set out for a morning run and thirsting for a bottle of water, then you realize that you've forgot to carry your wallet along with you. But that's hardly an issue when you're carrying your phone and Paytm is all set to remind you "Paytm karo".
The convenience to carry and do an online payment is the core reason that helped in widespread of applications like paytm.
The short form for "Pay Through Mobile" - Paytm was started in 2010 by Vijay Shekhar Sharma.  Paytm in its early days was an Indian e-commerce website as well as an application that allows users to initiate online payments for various services. 
Back in 2017 when Vijay Shekhar Sharma, son of a school teacher was named as the youngest billionaire in India, this become an inspiration for many new entrepreneurs.
But, have you wondered how he succeeded? 
How Vijay Shekhar turned the winds in his direction and brought a notable shift in the online payment industry of India? Let's find out!
Success Story of Paytm: A Startup that Changed the Way Indians Pay
Let's kick things off with an introduction to paytm's founder vijay Shekhar Sharma.
Vijay Shekhar Sharma- Biography
Name
Vijay Shekhar Sharma
Title
Founder and CEO of Paytm
Net worth
US$2.35 billion (2020)
Age
42
Born
8 July 1978 Aligarh, Uttar Pradesh, India
Citizenship
Indian
Education
B.Tech from Delhi College of Engineering 
(now Delhi Technological University)
Wife
Mridula Sharma
Occupation
Businessman
A Glimpse of Vijay Shekhar Sharma's Childhood 
Paytm's Vijay Shekhar Sharma
On 8th of July 1973, Vijay Shekhar Sharma was born in a small village of Aligarh city in a poor family. His father was a humble school teacher, his mother was a housewife and had three siblings with him. 
Talent is a fragrance that manifests itself despite utter poverty. Though Vijay Shekhar belonged to a poor family his profound knowledge helped him to pass Higher Secondary at the age of 14 only.
Vijay Shekhar Sharma wanted to be an engineer but he neither had the money nor the resources to get any coaching. His struggles with the English language was another challenge. But he never gave up. Vijay Shekhar asked his mother that he wanted to be an engineer so he need to take classes for the English language. His mother denied it and told him that they do not have enough resources and his sister had to get married soon.
Vijay Shekhar Sharma- Overcoming The Tough Circumstances
Vijay Shekhar has seen a tough life of the economically backward section of the country. When he was a kid who used to wear chappals and went his school, his batchmates had no money to afford a pair of slippers. After witnessing this, he wrote a poem expressing his emotions and views at the inequalities of life.
Vijay Shekhar Sharma was one of the two people from his village who continued to pursue engineering.
 Vijay holds an engineering degree from the prestigious Delhi Institute of Technology. As per Vijay, if any person used to study in a Hindi-Medium school, that person had to face many difficulties. A child studying in the 1990s framed Hindi-medium school very rarely had any access to books and coaching facilities. Therefore, Vijay had realized that he was all alone on his path to success.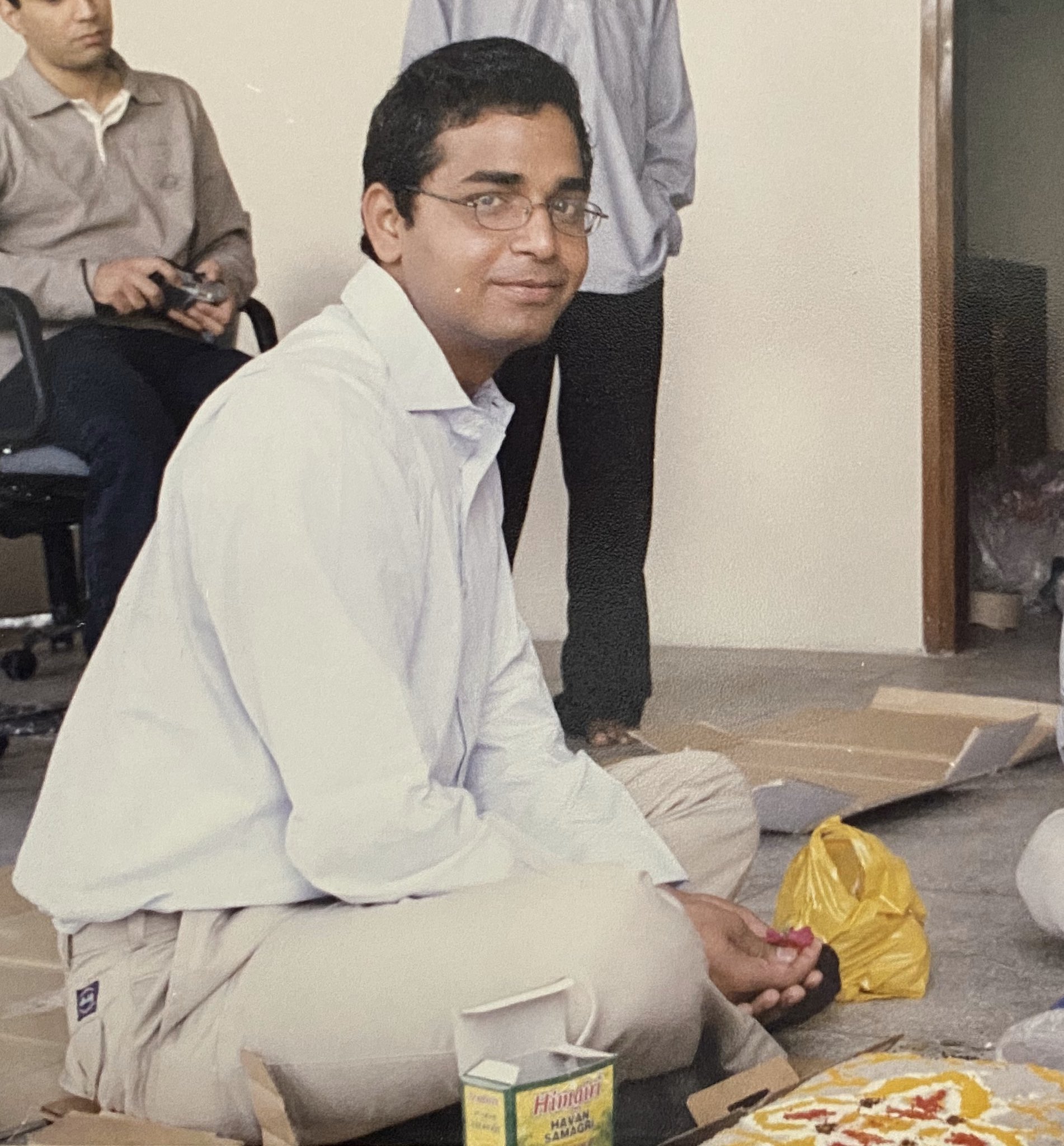 Office opening day puja. 
During his time at DTU(Delhi Technological University) formerly known as Delhi College of Engineering, he expressed his life similar to a popular Bollywood movie named "Tare Zameen Par". That is he could see the lips of his teachers moving, but he could not understand a single word. While preparing for the exams, he and his friends would read the answers and not understand the questions because the questions were written in English language. 
Hence, Vijay taught himself to read, write and speak English.
Vijay Shekhar Sharma Converted Obstacles Into Opportunities
The turning point in Vijay's life was when he went to a market one Sunday and picked up a Forbes magazine. He came to know about the success stories of mega-brands like Apple, Intel, HP, and how they became one of the biggest names in the startup ecosystem. Each of the companies had one thing in common and that is, all of them were built from basement garages. Later, Vijay wanted to go to the silicon valley. But, due to his financial condition, that was not possible. 
Therefore, despite giving up, vijay taught that even if he couldn't go to Silicon Valley, he could create one in India.
Hence, vijay started an internet company during his college days in around 1997 with his friend Hari.
 Both of them wanted to develop a search engine and they knew the fact that the search engine would become the main attraction given for the internet that was taking giant strides in the technology circuit during that time. However, his parent made him to join a real job, but, his strong determination towards developing a new company never tied him to stay in the traditional job for a long period.
Throughout his life, Vijay wanted to be a bird who has freedom. He never wanted to be a horse who runs the same track over and over again. Hence, to pursue his dream, he had to left his job at One97 Communications in the year 2001 and started a company which was based on the same philosophical ideology as that of Yahoo. In his first tenure, he learned that cash flow matters, not the profitability.
This was because he was the victim of a cash flow problem as his clients would never pay him on time. 
Hence, to move on he sold about 40 percent of the company for just Rs 8 lakh to an angel investor at that time. That was a hard time for Vijay because his sister's marriage was coming up and he wanted to secure that marriage. 
There was a big problem for the family as his father, even though being clean on the loan defaulters sheet was not granted a loan of 2 lakhs. Hence, by taking up inspiration, he developed Paytm, The platform which resolved the issues of the poor and economically backward sections of the society. 
The platform was built for a shopkeeper and auto-rickshaw drivers who is never respected or liked by any financial institution.
Failure: A Key to Success for Vijay Shekhar Sharma and Paytm
Vijay Shekhar never gave up on his dreams just because he is weak in English. Though he was not good at english language but had handful of command over Science and Mathematics. 
Eventually, at the age of 15, he was not only selected in Delhi University but also got 9th rank in the entrance exam. But, Vijay Shekhar who was the topper in his school turned into the backbencher in college due to his poor English.
A certain darkness is needed to see the stars.
One day, he was mocked in his class when the professor asked him a question in English and he could not understand it. Again, it did not hamper his morale. Rather, he started going to the library to understand English. He used to translate his subject books into Hindi and then study them. He failed in the first year of Engineering due to his non-proficiency in English. 
That language had become one of the toughest barriers in the path of Vijay Shekhar success.
Strong Morale of Paytm Founder Vijay Shekhar Sharma
God helps those who help themselves.
The changing moment in his life appeared when one fine day he visited Dariya Gunj in Old Delhi and purchased a second hand Forbes Magazine. He used to read the success stories of remarkable businessmen. Vijay Shekhar got highly inspired by business tycoons like Steve Jobs, Bill Gates and Ratan Tata. The stories of how these entrepreneurs started from scratch and climbed the success ladder.
Vijay Shekhar had an ardent wish to go to Stanford and Silicon Valley but he couldn't go due to the financial crisis and paucity of resources. Such was the moral of this 'iron man' that even when he couldn't go he didn't give up and did not get caught in such an obnoxious condition
He thought if he could not go to Silicon Valley, he could make his india into Silicon Valley
The First Step to Success: One97 Communications
During his college days, Vijay Shekhar learned computers and made a website named indiasite.net which was a search engine for a company. 
But destiny had other plans! 
In 2001, Vijay Shekhar opened his own company named One97 Communications which provided a search facility for people. With the advent of One97 Communications, Vijay Shekhar also became one of the youngest businessmen in India.
To expand One97 Communications, he took loans from various banks, many times on the higher principal interest rate of 24%. Due to this, the income from the company evaporated mostly in paying the interest rate and rent of his house.
The value of money can be understood by the man who himself has starved and craved for a penny. That is why Vijay Shekhar understands the importance of money that money is a key factor in everybody's life.
There had been a time in his life when he did no money to buy two cups of tea in winters. He has walked kilometres to kilometres just to save the money for the next day's breakfast. He even had to skip meals to save some bucks! 
Paytm - Go Big or Go Home
Vijay Shekhar inspires us to dream big and achieve it no matter what. 
To end the bankruptcy situation, he started a consultancy where he met Piyush Agrawal. Vijay Shekhar helped him by developing software in his company which doubled his profit. This act of Vijay Sharma impressed Piyush Agrawal and he offered him the post of CEO in his company but Vijay rejected it.
On the other side, Vijay Shekhar's family was pressuring him to do a stable job. He was stuck between a fiscal crunch and family pressure. In the end, he had no other option but to accept the offer given by Piyush Agrawal. Eventually, his loan which he had raised for One97 Communications grew up to a hefty amount of Rs. 8 lakhs.
Vijay Shekhar shared this with Piyush Agrawal who helped him by purchasing 40% shares of One97 Communications. And thus, the loan of Rs 8 lakhs got covered. 
Vijay Shekhar says,
I was not meant to be the horse who was tamed by someone. I was meant to be that bird — the eagle that wanted to fly high. 
And that is when I heard the words from Jim Morrison in a classic song: we want the world and we want it… now!
Paytm - An Idea can Change the World
It was the deepest desire of Vijay Shekhar to build a consumer brand. The Board of Directors said that the profit of One97 Communications needs to be invested in something worthy of the venture as they cannot keep the dividends for a long period. They had to use that money. Vijay Shekhar took a tour of the whole world and reached Beijing. There he encountered that Beijing was fastly growing in terms of technology. 
He was started to see that every number is a hundred times bigger than India. 
He felt if a country like China can do this, then why can't India. 
It was there when the idea to build a payment platform came to his mind. But the Board of Directors rejected the idea. They believed that cash is king in India and the countrymen won't approve the digital transaction. It is a matter of amusement that Vijay Shekhar was given an amount of Rs 5 crores for six months to take a chance on whether Paytm will be built or not. 
Finally, the idea of Paytm was executed and the rest is history.
The Magnanimous Startup: Paytm
When there is a will, there is a way. 
Vijay Shekhar observed the growing phenomenal use of smartphones. He wanted to contribute to society so that people could use smartphones to do the transaction online. On 8th July 2010, an online website was launched called Paytm.com under its parent company One97 Communications. 
Initially, it served only from online prepaid mobile and online DTH facilities. Within a couple of days, it popularized among people due to its paying facility of electricity bill, water bill, and gas bill facility. Paytm made people's life easy. Within 2 years, its users increased to two lakh fifty thousand. Paytm had become a popular name in the world of e-commerce.
Paytm payment bank became the first bank in India to offer a zero balance current account facility. The initial investment of Paytm was $2 billion in Noida, Uttar Pradesh. It served two countries India and Canada. 
Its products are Paytm money, Paytm Gamepad, Paytm smart retail and Paytm postpaid, Paytm wallet, Paytm mall. In 2014, Paytm launched Paytm wallet and initially the Indian railways and Uber accepted the concept of wallet for payment and others followed the league. 
In 2017, Paytm became India's first payment app with 100 million downloads of the application.
The substantial and sensational moment occurred for Paytm on November 8th, 2016, a historical day in Indian History. On 8th November 2016, the phenomenal step of demonetization was taken by the Indian Government.
Demonetization banned all the Rs 50 and Rs 1,000 notes into circulation to restraint corruption and black money. It boomed the digital revolution in India and hence Paytm. When demonetization enabled people to use cash, people were compelled to use the digital medium to enable transactions and go for cashless payments. Paytm witnessed colossal usage. It upsurges Paytm revenue manifolds. During demonetization, Paytm worked and completed 600 days' work in only 60 days. Its users increased to 200 million by November 2017.
Paytm is one of the most valuable startups in India having a valuation of $16 billion (as of 2020).
Success Story of Paytm :
Paytm's success story; Two words that come to almost every Indian's mind while Shopping, Post demonetization, are "Paytm karo." Paytm has brought a paradigm shift in the retail industry by completely transforming the payment methodology. Initially, this online wallet cum e-commerce website was used to make payments for limited utilities like mobile and DTH recharge and shopping bills. 
Over the years, this portal has expanded its scope and has brought about anything and everything under the ambit of its operations. Customers now can recharge their metro card, pay bills for utilities like electricity and water, transfer funds to other bank accounts, book flight/train/bus tickets, make hotel reservations, etc. Now the latest Paytm Success Story is ever expanding with the addition of e-retail and m-commerce stores.
This gives the option to small vendors to list their products on the website and allows them to expand their customer base.
Paytm - Business Model
"Payment is a no-margin business. Money will be made on content, commerce, and advertising. And then, we will build financial services on top of that,"
This image shows the Revenue Model of Paytm
Revenue Model of Paytm Karo
Paytm has laid the foundation for the variety of other digital payment platforms we observe in the Indian nation, as it sets as a definition from which these companies can observe and imbibe from. Initially Paytm Ltd. concentrated towards the requirements of the younger people and later on extended its emphasis to incorporate the older Indian population as well.
From being a mere recharge and bills payment platform the model has expanded to emerge as an online banking service kind of software that offers a shower of offers as well as services. The platform is one of the rare payment sites that facilitates a 50- 100% cashback in fairly much all the payment transactions undertaken by the user.
The application facilitates the customers with an e-wallet characteristic that allows them to store a section of the quantity exclusively for specific transactions. Paytm's platform also facilitates online booking as well as reservation booking. The platform functions as a variety of marketplace that permits people to execute their day-to-day requirements simply. It is also a virtual bank that has been approved by the Reserve Bank of India.
The platform has also started the idea of Digital computer Gold through which the person can perform online purchasing and selling of gold. They contain an all-time functioning audience service facility that promptly resolves any problems relating to the desk.
Paytm - Revolution and Growth
Paytm is a Reserve Bank of India (RBI)-approved e-wallet, i.e., the user's money is secured under the Escrow account with a nationalized bank. The security feature and easy user interface make Paytm the most favored digital payment platform in India. Paytm uses Verisign-certified SSL (Secure Sockets Layer) 128-bit encryption engineering. This ensures that the internet data of the user, i.e., the password and other financial details, is secure, therefore providing greater security to users.
This online payment system is not only safe but also robust. One of Paytm's Success Story is it can handle around 5000 transactions per second. A high volume of transactions has been made possible by the process of a very easy yet efficient and secure payment method. Users can simply pay by either scanning a QR code of the shop or by entering the mobile number of the recipient. 
The Paytm wallet also has a choice where a user can both safely park his or her money in the application and pay from the money in the wallet or pay straight from the bank via the app. The combination of safe transactions and high volume has made Paytm one of the many favored payment applications. More and more people are now using Paytm to pay for their day-to-day utilities and other expenses.
The craze of Paytm was boosted by the government's decision of demonetization. Demonetization forced the country to switch to either plastic money or a digital payment method. This helped Paytm to consolidate their place in the region of e-payment applications. Latest surveys show that Paytm has surpassed comparable payment applications such as Mobikwik, Freecharge, and other ecommerce app developers in terms of both the count of users and the revenue generated.
One of the special features of Paytm Success Story is that it is not only common in cities but also equally common in small towns and villages. Slowly and steadily it is becoming the favored framework of pay among masses.
Paytm - Expansion Plans
Previous year Paytm's market share among the e-payment companies was 26%. Paytm is currently preparing to explore new avenues. By 2020, Paytm plans to tap the mortgage business and disburse minor loans to 500 million people.
The Paytm Payment Bank was launched in May 2017. A 5-member board committee has been formed to expand the physical presence of the Payment Banks.
Paytm is also planning to give WhatsApp a race for their money by launching a chat app with more sophisticated features. Paytm acquires Shifu and Near.in to enhance and strengthen its offline and network platform and increase customer experience.
Paytm - Being removed from the Google Play Store
The latest challenge Paytm had was in the month of September of this year was the temporary ban of its app from Google's Android Play Store, the reason as claimed by the tech giant, being that the platform had been trespass its policy and encouraging unsupervised gambling, which shot a dispute with Vijay Shekhar Sharma, Paytm's founder who labeled the step to be an action violating the nations' PM's Amanirbhar Bharat mission.
The app returned to the Play Store a couple of hours after Paytm agreed to remove its fresh UPI cashback facility it had termed 'Paytm Cricket League' which had been introduced in the day past the starting time of the Indian Premier League (IPL)'s 13th edition. 
Paytm - Recent Fundings
| Shareholders | Shareholding |
| --- | --- |
| Vijay Shekhar Sharma | 14.67% |
| Ant Financials | 29.71% |
| SoftBank Vision Fund | 19.63% |
| SAIF Partners | 18.56% |
| AGH | 7.18% |
| Berkshire Hathway | 2.76% |
| Others | 7.49% |
| Total | 100.0% |
Some of the leading investors of Paytm are Alibaba and Softbank. The recent funding which took place on paytm's platform happened in 2019 when it raised 1 Billion USD from T Rowe Price, a US-based asset management business. This funding has made the platform's total valuation achieve 16 Billion USD.
The firm's investors are One97 Communications, Softbank as well as Alibaba Group. In the year of 2015, the firm earned massive funding through the Alibaba group in return for a 42% stake in the firm.
Following this, the platform get funding from Ratan Tata's Tata Sons.
This was obedient by SoftBank which made a handsome big investment and acquired a 20% share of the platform.
After this Berkshire Hathaway invested in the firm in the year of 2018. The firm maintains about a 3% share of paytm's platform.
Paytm - Success and Awards
Paytm is enjoying unmatched victory; it has won honors across the world for business in the field of digital payment and e-commerce developers. Here is a listing of awards and acknowledgement bagged by Paytm:
1. The Diamond SABRE Award in Company of the Year at SABRE Awards 2017
2. The Diamond SABRE Award in Superior Achievement In Reputation Management at SABRE Awards 2017
3. The Gold SABRE Award in Financial Professional Services at SABRE Awards 2017
4. Vijay Shekhar Sharma was recognized among the 50 Most Influential Young Indians by GQ
5. Vijay Shekhar Sharma won at Entrepreneur India Awards 2017
6. Vijay Shekhar Sharma was listed in the 2017 Time 100 List of Most Influential People in the World
7. Vijay Shekhar Sharma was recognized as the Entrepreneur of the Year at The Entrepreneur's Moneytech Awards 2017
8. Vijay Shekhar Sharma was announced Data Quest IT Person of the Year
9. Vijay Shekhar Sharma won the Forbes Top 40 Under 40 Award
10. The Best Digital Wallet award at the 11th IAMAI India Digital Summit
11. The Best Consumer Mobile Service award at the 11th IAMAI India Digital Summit
Paytm is driven to improve their products and services and strengthen customer experience. Their committed team energetically works to enhance a single characteristic no matter how tiny it may be. The Paytm team always try to add small and incremental yet efficient features that have guaranteed that it remains as the favorite digital payment platform among users. Paytm has proved to be an ideal in the run of ecommerce software developers and its huge rise in craze has motivated others to follow it.
Vijay Shekhar Sharma- An Inspiration
Today, Vijay Shekhar Sharma net worth is around $2.3 billion.
Success never comes easy. This warm-hearted and sincere entrepreneur made his dream come true to create billion dollars from the past when he used to have only Rs. 10 in his wallet. Vijay Shekhar was not born with a silver spoon but he changed his life into a golden one. This is a story of fawn to riches. Vijay Shekhar Sharma stimulates us to be 'Michaelangelo' of your life, make and paint your life with elegant colours. He was well-educated and taught us a lesson that patience, confidence, bravery, and vision can make you a wealthy person.
Ultimately, it would not be wrong to say that Vijay Shekhar Sharma is coal turned into a diamond. 
Paytm - FAQs
What made Paytm successful?
The maximum purchase cap has been raised to Rs 1 crore in a single transaction; The number of new customers has increased by 50%, and the total order size has increased by 60%. Paytm Money now offers digital gold as well.
Is Paytm making profit?
Paytm Payments Bank, which has about 64 million bank accounts, has tied up with Suryoday SFB to offer fixed deposits. It also made a net profit of ₹29.8 crore in 2019-20.
Is Paytm a Chinese company?
In March 2015, Paytm received its huge stake from Chinese e-commerce company Alibaba Group, after Ant Financial Services Group, an Alibaba Group affiliate, took 40% stock in Paytm as part of a strategic agreement.
Why is Paytm popular?
Paytm said it has been "the main driving force behind building and expanding digital villages and now empowers over 6 lakh (600,000) villages in India with digital payments.
What are the disadvantages of Paytm?
Paytm Wallet Drawback
Money Transfer from Paytm to the bank account can charge you up to 4%,
You may lose your available Paytm cash if you losses you mobile, they don't have authentication using email id,
Dependency on the Internet while paying money as compared to using cash/Card.
Why Paytm is so fast?
Paytm is a digital payment platform has latest technology of payment gateway which helps paytm to work really fast in payment transactions and fund transfers.
Why do people like Paytm?
Paytm actually got popular because of its online recharge and bill payment services. Being among the first online recharge providers, Paytm covered all mobile operators, dish operators, data-card providers etc. Moreover, it enabled bill payments of TV subscriptions, mobile postpaid numbers, electricity, water etc
Why is Paytm so successful?
Paytm actually got popular because of its online recharge and bill payment services. Being among the first online recharge providers, Paytm covered all mobile operators, dish operators, data-card providers etc. Moreover, it enabled bill payments of TV subscriptions, mobile postpaid numbers, electricity, water etc.
Is Paytm doing well?
According to the latest data from the Reserve Bank of India (RBI), wallet transaction value dropped to ₹15,109 crore in October 2019, from ₹18,786 crore a year ago. This has major implications for Paytm, which at $16 billion is India's most valuable internet startup by far, ahead of the $10 billion valued Oyo.
Why did Paytm banned?
Why Paytm Is Banned In India? Apparently, Google has removed the Paytm app from the Play Store citing the company's new rules related to online gambling. Google states that it doesn't allow any online casinos or back unregulated gambling apps that involve in sports betting.
Is Paytm good or bad?
Paytm is good app to use.
It is also used in our business to receive payments from the clients. Paytm upi also provides a lot of help in making payments. Review collected by and hosted on G2.com.
What is the process of Paytm?
How to create Paytm account (process)
Step 1: Download on your device and open your Paytm app.
Step 2: Tap on Create A New Account.
Step 3: On the new page enter the mobile number that you want to use for Paytm, email address and a password.
Step 4: After entering all details tap on Create a New Account.
Step 5: An OTP will be sent to your registered mobile number, enter the OTP and click on Submit.
Step 6: On the next page, enter your First Name, Last Name and DOB.
Step 7: After entering all the details, click on Create Account.
How can I use Paytm online?
In order to use the Paytm Wallet and transact cash-free, follow the steps below:
Set up a Paytm account using your mobile number and email ID.
Add some money to your Paytm Wallet using netbanking, debit card, or credit card.
To transfer money to someone else, select the 'Pay or Send' option.
Can I use Paytm without bank account?
Paytm users won't be able to use their Paytm wallets for sending money to others or to transfer money to a bank account. ... However, without KYC, users won't be able to send money to their friends or transfer the money back to a Bank Account. This is the only impact if you don't undergo KYC process.
Who can use Paytm?
Accepting or agreeing to the T&Cs will constitute a legal contract (hereinafter Agreement) between You, being at least 18 years of age and an individual user of the Paytm Platform or a customer or beneficiary of the Paytm Services, and Paytm.